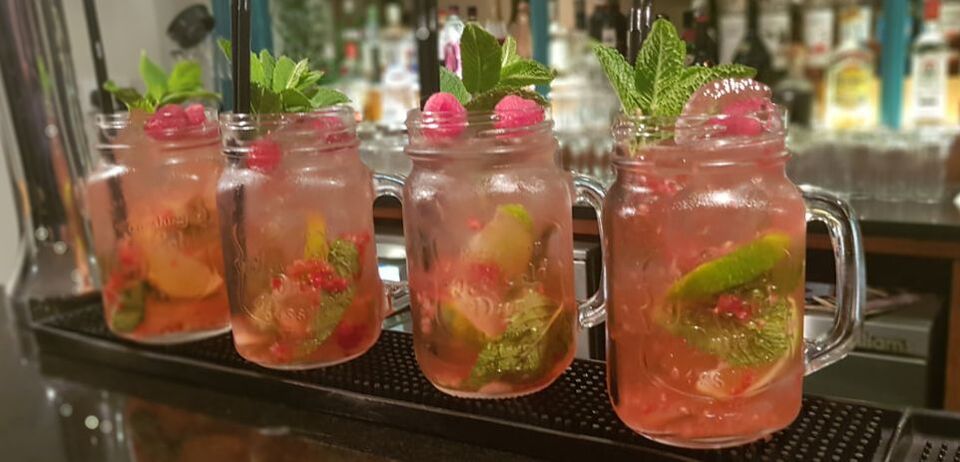 ROSEBUD £7.95
A refreshing mix of dried rosebuds, Bombay Sapphire gin,
rose liqueur, lemon juice & sugar.

LAVENDER & COCONUT DAIQUIRI £7.95
Bacardi oro, Koko Kanu, coconut cream, lime juice
& pineapple juice topped with lavender foam.

PORNSTAR MARTINI £7.95
Passoa, Vanilla vodka, sugar syrup, passion fruit foam & Prosecco.

MOJITO £7.95
The contemporary recipe includes a muddle of lime, fresh mint leaves and brown sugar, charged with white rum on crushed ice and topped with Canada dry.

OLD FASHIONED £7.95
Woodford Reserve bourbon, bitters, sugar cube
& water, garnished with an orange slice.

HENDRICKS £7.95
Meet the delightfully curious Hendricks gin where life is too glorious not to experience its peculiar flavour, infused with cucumber, rose buds, pink peppercorn & elderflower tonic.

BOMBAY £7.95
Enjoy the tantalizing, smooth and complex taste of Bombay Sapphire, balanced perfectly with a blend of all the aromatic flavours of dried grapefruit, fresh lime, Jamaican Spice and crisp yet delicate finish of grapefruit tonic.

GIN MARE £7.95
Go across the borders of the world with sensational flavours and awaken your senses with a blend of fresh herbs, rosemary, star anise and cardamom, finished with pink tonic.

MONKEY 47 £7.95
Get freaky and embark on a special distillery mission, a botanical curiosity, a desire to explore new sensory territory and stay in good spirit with fresh rosemary, bitters, citrus aroma and tonic.

BELLINI £7.50
The Venetian classic. A vibrant rondo made with peach puree and prosecco.

STRAWBERRY PASSION £7.50
Strawberries are one of prosecco's best accompaniments.
Try them together in this gorgeous sparkling drink.

KIR ROYAL £7.50
A sensual drink, premium crème de cassis and prosecco.

MOULIN ROUGE £7.50
Puréed raspberries, chambord and prosecco. A real favourite.

SAN FRANCISCO NON ALCOHOLIC £5.00
Lemon, lime, orange and grenadine syrup, shaken and
served over crushed ice, topped with lemonade.