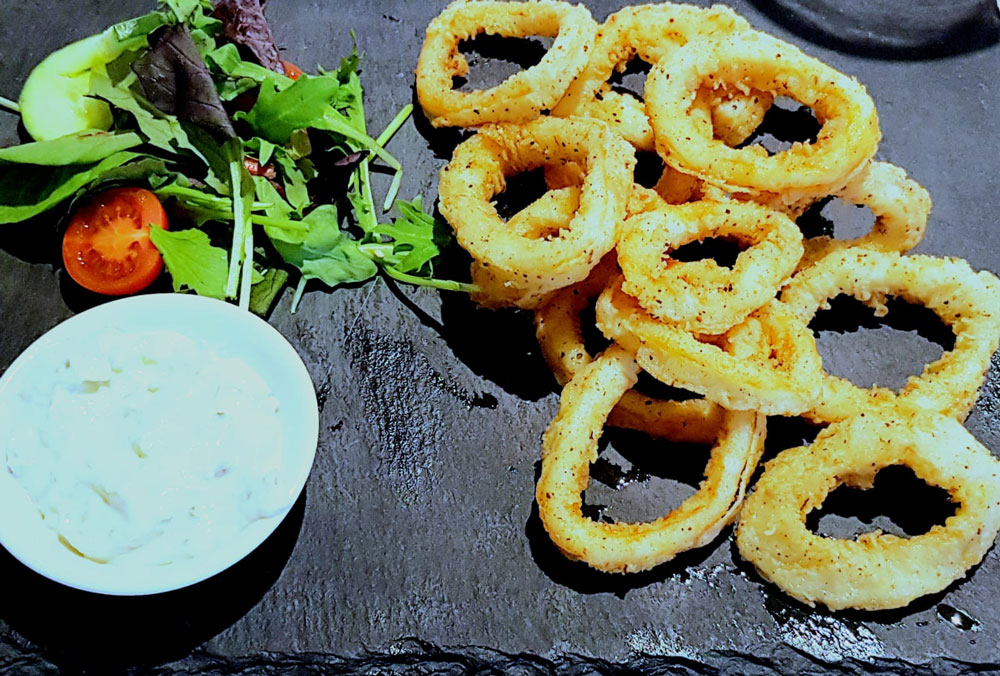 BRUSCHETTA (V)
Tomato, basil & oregano £5.25
BREAD, OLIVES & BALSAMIC OIL (V) £5.50
PIZZA ALL' AGLIO (V) £4.95
Garlic pizza
PIZZA ALL' AGLIO E POMODORO (V) £5.95
Garlic pizza with tomato
PIZZA BALL' AGLIO E FORMAGIO (V) £6.50
Garlic pizza with mozzarella cheese
ANTIPASTO £9.50
Selection of cured Italian meats & cheeses
COSTOLETTE DI MAIALE £8.95
Barbecue spare ribs made to our very own delicious recipe
PATE DELLA CASA £7.50
Our own delicious homemade chicken liver pate with port jelly, served with bread
CAPESANTE MORNEY £10.50
Oven baked scallops in morney sauce topped with herb breadcrumbs
INSALATA CAPRESE V £8.00
Classic tomato and buffalo mozzarella salad served
with fresh basil infusion
CALAMARI FRITTI £8.95
Golden fried calamari served with homemade tartare sauce
TRIO ARANCINI £8.50
Selecction of breaded deep fried rice balls, filled with beef ragu & mozarella cheese, italian cheeses and artichoke & sundry tomatoes, served on a bed of tomato sauce, toped with garlic mayo

TORTINA DI CAPRINO (V) £8.50
Crispy goat's cheese and tepenade parcel with candied beetroot and spicy tamato salsa

GAMBERONI ALLA DIAVOLA £9.95
King prawns or squids cooked in extra virgin Tuscany olive oil, garlic and fresh chilli served with bread
CARPACCIO DI MANZO £9.95
Herby pepper-crusted beef fillet topped with rocket, parmesan and extra virgin olive oil.
INVOLTINI DANATRA £8.00
Duck leg confit spring rolls, served with cucumber spaghetti and fresh chilli snap sauce.
ALI DI POLLO £7.50
Chicken wings cooked with garlic and chilli
FUNGHI PRATAIOLI ALL'AGLIO (V) £8.00
Mushrooms in a creamy garlic sauce served with toasted bread
GRIGLIATA DI CALAMARI E GAMBERONI £10.50
Grilled sliced calamari and king prawns sauteed in olive oil, garlic and fresh chilli served on a bed of toasted italian focaccia

SOUP OF THE DAY £5.50
Home made soup served with bread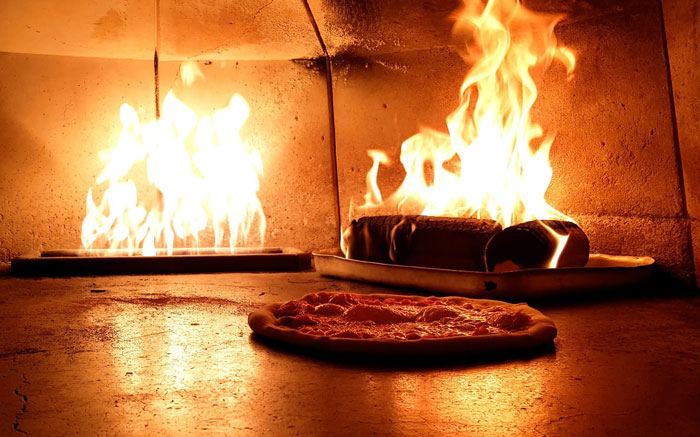 'All our pizzas are made with the finest Italian plum tomatoes, Sicilian olive oil and 100% pure mozzarella cheese'
PIZZA MARGHERITA (V) £9.95
Mozzarella, pomodoro with fresh basil infusion
PIZZA NINO'S £11.95
Fior di latte mozzarella, chopped plum tomatoes, rocket leaves, pomodoro, Parma ham, parmesan shaving & rosemary olive oil
PIZZA VESUVIO £11.50
Fior di latte mozzarella, spice salami, Nduja sausage & fresh basil
CALZONE £11.50
Half moon pizza filled, with salami, pepperoni sausage, ham, mozzarella, oregano and pomodoro on the side
PIZZA PAPERINO £12.95
Fior di latte mozzarella, hoi sin sauce, shredded roast duck, bacon, cucumber, spring onions and fresh chilli

PIZZA PROSCIUTTO E FUNGHI £ 11.50
Fior di latte mozzarella, pomodoro sauce, cocked ham and mushrooms

PIZZA DI CARNE £ 12.95
Tomato, fior di latte mozzarella, ham, salami, chicken, beef and chilli oil
PIZZA VEGETARIANA (V) £11.50
Tomato, fior di latte mozzarella, onions, peppers and mushrooms

PIZZA CAMPAGNA £12.50
Buratta cheese, pomodoro sauce, italian sausage and spinach

PATATE FRITTE £3.50
French fried chips
FRESH VEGETABLE OF THE DAY £3.50
Steamed vegetables, virgin olive oil
INSALATA MISTA £3.50
Seasonal mixed salad
SPINACI £3.50
Spinach sautéed with garlic, olive oil and chilli

RUCOLA E PARMIGIANO £3.50
Rocket and parmesan, aged balsamic vinegar
ZUCCHINI FRITTI £3.50
Breaded deep fried courgettes
BBQ RIBS SAUCE £2.50

CHOCOLATE FUDGE CAKE £5.50
Served with ice cream
TIRAMISU CLASSICO £5.50
PROFITEROLES AL CIOCCOLATO £5.50
Profiteroles filled with vanilla cream and topped with chocolate sauce
TORTA DI RICOTTA £5.50
Ricotta Cheesecake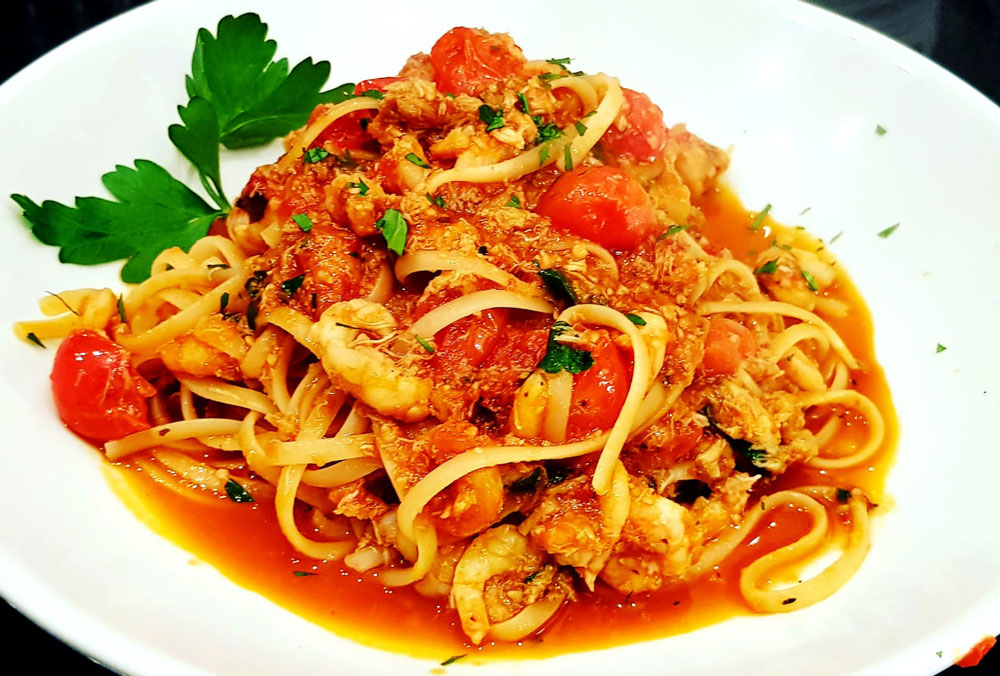 'Possibly one of the most Venetian dishes around,
squid ink risotto, is a feast for the eyes and the palate'
LASAGNA CLASSICA £8.95 / £11.50
Layers of pasta with Nino's meat ragu and cheese sauce
CANNELLONI £8.95 / £11.50
Rolls of pasta filled with meat, cheese and spinach topped
with tomato and cheese sauce
FARFALLE AL SALMONE AFUMIGATTO £10.25/ £13.50
Sautéed with smoke salmon, king prawns, white wine, vodka, olive oil, garlic and cream

SPAGHETTI CARBONARA £8.95 / £11.50
Smoked pancetta, cream, egg yolks & parmesan cheese
PENNE ALLA CALABRESE £9.50 / £12.50
Spicy tomato sauce, garlic & calabrese sausage
SPAGHETTI BOLOGNESE £8.95 / £11.50
With classic beef ragu and parmesan
FETTUCCINE ALFREDO £9.50 / £12.50
Sautéed with chicken in a pesto and cream sauce
LINGUINI AGLIO, OLIO E GAMBERONI £10.50 / £13.95
Linguini pasta sautéed with king prawns, galic, olive oil and fresh chilli

CAPPELLACCI AL CINGHIALE £10.95 / £13.50
Large pasta parcel filled with wild boar, with porcini mushrooms, truffle sauce and a hint of chilli
TORTELLONI RICOTTA E SPINACI (V) £10.00 / £12.95
Tortellonni pasta stuffed with ricotta and spinach, sauteed with mushroomsand heam in a creamy and tomato sauce

PENNE PASTICCIATE £10.00 / £12.95
Oven baked penne pasta with ham, mushrooms, cream and tomato sauce, topped with mozzarella cheese.
LINGUINI AL GRANCHIO £10.50 / £13.95
Linguini pasta cooked with crab meat, prawns, cherry tomato, garlic, coriander and chilli
RIGATONI NORMA (V) £10.00 / £12.95
Rigatoni pasta, aubergine, tomato sauce, garlic, hint of chilli and pecorino cheese
RISOTTO AL PESCATORE £10.50 / £13.95
With saffron, prawns, calamari, scallops and mussels with tomato & a hint of chilli
RISOTTO POLLO E ASPARAGI £10.00 / £12.95
With chicken, asparagus, mushrooms, cream and parmesan cheese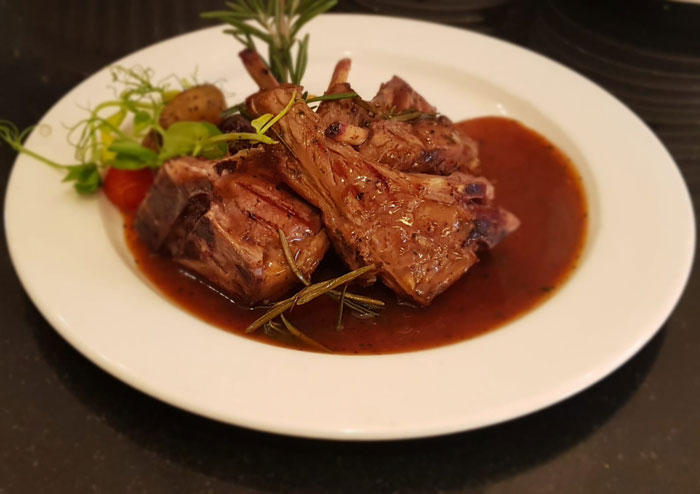 'Our beef is dry aged and matured on the bone for at least
32 days hand cut in-house then grilled to your specifications'
FILLET STEAK (10OZ) £25.95
SIRLOIN STEAK (10OZ) £22.95
BEEF STROGANOFF £20.95
Prime fillet strips sauteed with onions, mushrooms, french mustard and cream served with rice
SAUCES: PEPPERCORN, RED WINE, DIANE, PIZZAIOLA £3.00
FILET NINO (10OZ) £27.95
Prime fillet of beef glazed with dolcelatte cheese, parma ham & red wine sauce

SUNDAY ROAST £16.95
Avsailable every Sunday, ask for the roast of the day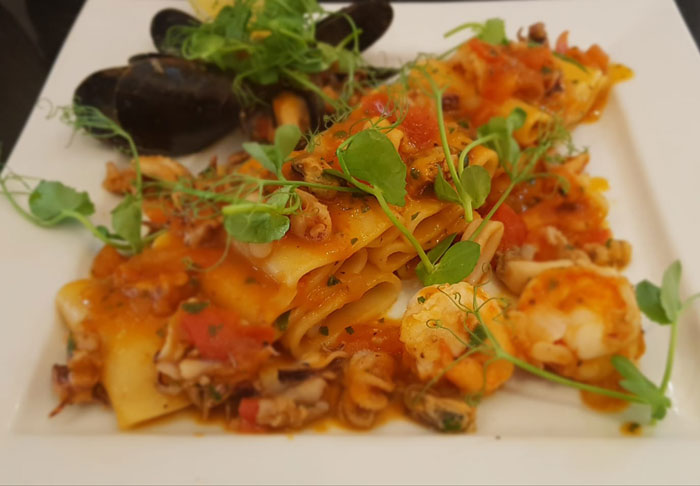 POLLO RIPIENO £17.50
Free range chicken breast stuffed with mozzarella, ham & garlic butter,wrapped in parma served on a bed of spinach in a creamy and bacon served with potatoes

CARRE DI AGNELLO ALLA'PROVENZALE £17.95
Grilled rack of lamb sliced in a red wine and mint sauce, served with roasted potatoes
VITELLO ALLA MILANESE £16.95
Breaded escalope of veal served with spaghetti Napoli or mixed salad
PORCHETTA ALL'ABRUZZESE £16.95
Roast suckling pig abruzzo style with aromatic herbs & caramelised apple
SALTIMBOCA ALLA ROMANA £16.95
Rose veal escalope, topped with parma ham and sage, sauted and finished with white wine and butter sauce
POLLO PRINCIPESSA £16.50
Free range chicken breast, cooked with mushrooms, white wine and cream sauce, topped with asparagus and served with roast potatoes
POLLO ALL DOLCELATTE E CHORIZO £17.50
Free range chicken breast in a creamy, chorizo and dolcelatte cheese sauce, served with roast potatoes

POLLO TRICOLORE £16.95
Strips of free range chicken breast, cooked in a mild curry sauce, peppers and onions served with tagliatelle pasta

ANATRA £17.50
Pan fried duck breast, served with cherry sauce and mashed potato
TRANCIA DI SALMONE E LOBSTER RAVIOLI £20.95
Roast fillet of salmon served with lobster raviolis in a lobster bisque sauce topped with baby prawns

FILLETO DI BRANZINO £19.50
Pan fried seabass fillets, served in a butter, white wine and lemon sauce, topped with rocket and sundry tomatoes served with mashed potatoes

POLLO SALAMI E PESTO ROSSO £18.50
Chicken breast filled with mozzarella di bufala and salami in a red pesto & chilli sauce, served with potatoes